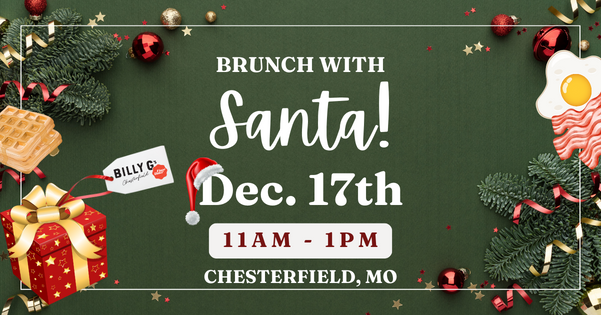 Brunch with Santa! – Chesterfield
Event Info
Title:

Brunch with Santa! – Chesterfield

When:

Sunday, December 17 @ 11:00am

Where:

1772 Clarkson Rd. Chesterfield, MO 63017
Details
Billy G's Chesterfield will be hosting their first-ever Brunch with Santa event this year!
Brunch with Santa will be held on Dec. 17th, from 11 am – 1 pm at the Finer Diner! Attendees will have the opportunity to tell Santa their last-minute wishes and will receive a complimentary photo with Santa during their visit. We have limited availability so be sure to register early!
Please submit all Chesterfield reservation requests via email to Allen at [email protected]
Be sure to include…
"Brunch with Santa" as the subject line along with your reservation name
Reservation name
a good phone number
number of guests
preferred time
number of high chairs and/or boosters, if needed
additional comments as needed
Reminder – Our Kirkwood and Chesterfield events are two separate events! For questions or concerns please feel free to reach out to us through the Contact Us portion of the website! Let's Eat!
---