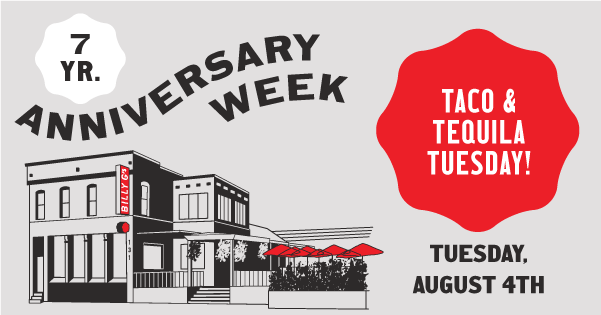 Taco & Tequila Tuesday!
Event Info
Title:

Taco & Tequila Tuesday!

When:

Tuesday, August 4 @ 11:00am

Where:

Billy G's Kirkwood
131 W Argonne Dr
Kirkwood, MO 63122
Details
For the third day of our 7 year anniversary week, we are celebrating with tacos and tequila! We will be offering a taco special which includes:
A Pork carnitas with salsa verde & grilled pineapple.
A Grilled Sweet chili shrimp with mango salsa & avocado.
A Chipotle marinated portobello with pickled veggie slaw & queso fresco.
On flour tortillas served with a side of stewed black beans all for 15.99
We will also have a few special tequila cocktails for the day:
TBA!
---